The Mossberg Model 500 pump-action .410 needs little introduction, at least to British gamekeepers and pest controllers. For them it's an invaluable working tool, especially when fitted with the Hushpower moderator, which cuts the sound of the little .410 cartridge down to a mere pop.
"This gun is just superb," says Andy Norris from Mossberg's UK distributor, Viking Arms. "It's been around for ever. They never break or wear out, and they just seem to fit everyone."
The gun comes in a three-shot version which is covered by a shotgun certificate, or you can go for the five-shot FAC version. It's a no-frills tool which has a convenient top tang safety catch and a nice ventilated rib.
Andy says that demand for the little pump-action is constant, as working keepers know it's a gun they can rely on. But why do they choose a pump over a semi-auto? "That's at the heart of this gun's popularity," he explains. "Semi-auto .410s are very ammunition sensitive, especially if they're made in the USA for American cartridges. Ours are different, we tend to use roll-overs instead of crimps, and that can cause problems in a semi-auto."
"With this gun, you're not relying on the gases to cycle the action, you're doing it by hand. It keeps things simple, and it works. There's not a lot to go wrong. Other companies have tried to copy this gun, but they've never succeeded."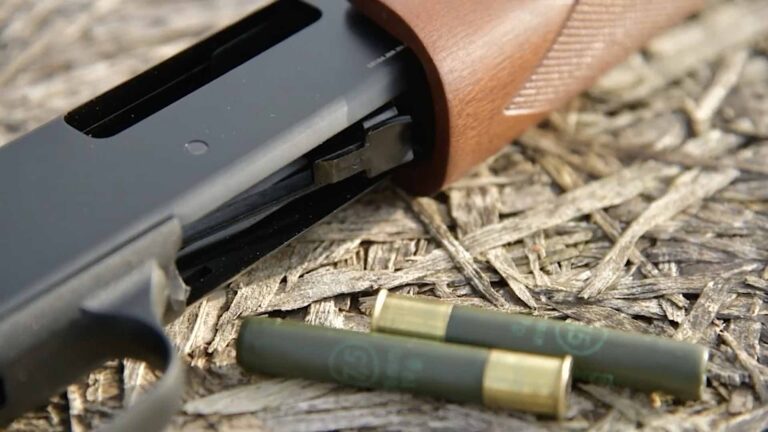 The price is attractive too, says Andy. "These are just over the £600 mark – six hundred for a gun that will last you a lifetime, you can't argue with that!"
Find out more at the Mossberg website.
And on the Viking Arms website.
Do you shoot the Mossberg pump-action .410? Join the conversation, add your opinion in the comments on YouTube.