RWS 10.3×68 rifle cartridge
Hunters in the mountainous Swiss canton of Graubünden have relied on the effectiveness of 10.3mm calibres for the past 150 years. Rimfire Peabodys developed during America's civil war as well as Vetterli and Martini stalking carbines developed after 1867 were the predecessors of the 10.3x60R – and remain to this day the iconic calibre of the Bündner hunter. Members of countless hunting dynasties shot entire lifetimes' worth of chamois, red stag and roe deer with the same rifle, passed on from one generation to the next.
As time passed, the demands of the hunter changed. Overseas hunting trips, long shots in the mountains and the need for greater stopping power on driven game hunts posed new challenges to the 10.3x60R, especially beyond the borders of Canton Graubünden.
Visionary designer Peter Vonow focused on this idea to pursue his desire to exploit the advantages of a large bullet diameter. In the end, he developed an effective universal cartridge for the passionate hunter. The well-known .416 Rem Mag, .404 Jeffery and 10.75×68 Mauser large game cartridges played important roles as godparents to the new round.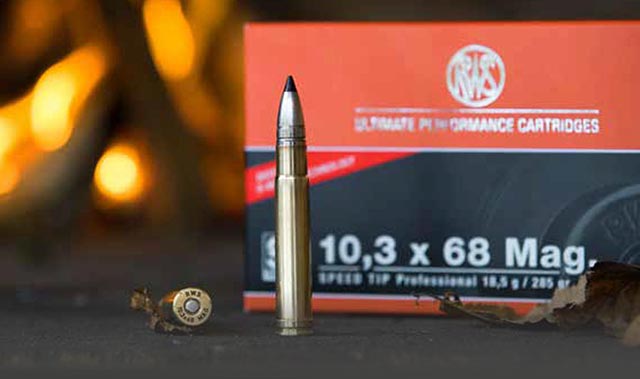 Combined with the legendary RWS case length of 68mm, the 10.3mm bullet diameter proves to be optimal for satisfying the most modern of hunting requirements. Thus is born the fundamental idea for the 10.3×68 magnum calibre. A reduced case length of 68mm serves as the basis for a balanced, well-mannered cartridge that offers a unique palette of bullet weights between 11 and 26 grams (169-401 grains). Performance levels vary between the .30-06 and the .416 Rem Mag with correspondingly comfortable shooting qualities. In this way, the 10.3×68 Mag covers the entire hunting spectrum from marmots to the largest African buffalos.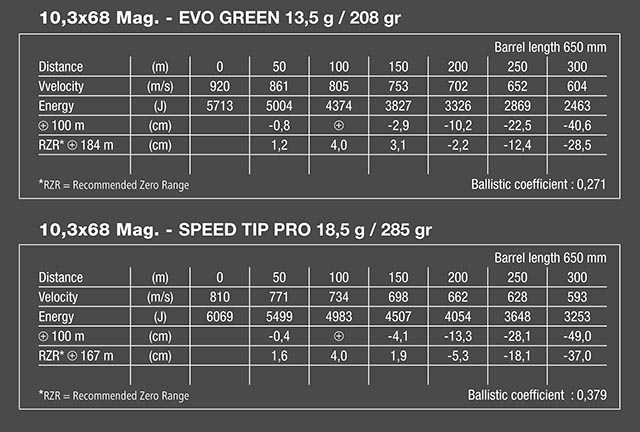 Two rifle manufacturers are already producing barrels for this calibre: Blaser and Sauer.
For the whole story, click here [PDF]
GECO scopes and binoculars

Gustav Genschow & Co (GECO) sold binoculars under the GECO brand as far back as the 1930s. Following this tradition, GECO now provides binoculars and riflescopes in outstanding optical and mechanical quality at mid-market prices.
There are three classes of GECO rifle scopes: GECO, GECO Gold and GECO Black. GECO is the entry level scope; GECO Gold optics have premium transmission values, field of vision, edge sharpness, and exit pupils; and GECO Black optics are developed for sporting and tactical shooting.
Visit geco-munition.de/en/optics.html
Zeiss Conquest V6 riflescope
It is the new riflescope from Zeiss with 6x zoom. Whether for sitting or stalking game, driven hunts or long-range applications, the Conquest V6 combines legendary Zeiss quality and technology with field-proven design into one robust package that's within every serious hunter's price range. With 92% light transmission, modern multilayer coatings and a wide field of view, the Zeiss Conquest V6 delivers image quality and clarity, even in harsh conditions. The sophisticated optics are protected by a black, matt anodized aluminum housing built for whatever nature throws at it. It has a rain and trail-grime shedding LotuTec lens coating and new optional ASV drop bullet compensation. It is available in 1.1-6×24, 2-12×50 and 2.5-15×56. For more, go to www.zeiss.co.uk/sports-optics/en_gb/hunting/riflescopes/conquest-riflescopes/conquest-v6-1-1-6×24.html
Other links
Artisan pistol: rws-munition.de
Stornaway clothing by Harkila: harkila.com
Clothing by Blaser: www.blaser.de/index.php?id=48&L=1
Binoculars by Blaser: blaser-optics.de/en/
Kite Optics by Browning: www.kiteoptics.com/
This film was first shown in Fieldsports Britain episode 380. To watch the whole show go to Fcha.nl/fieldsportsbritain380