UK prime minister Boris Johnson plans hunting bans that threaten all shooting sports. His first move, with DEFRA minister, animal rights activist and fellow old Etonian Zac Goldsmith is to try to end overseas 'hunting tourism' by UK citizens.
In the Queen's speech in October 2019, Johnson confirmed his plans to put an end to the imports of horns and antlers to the UK. The speech came just a week after Goldsmith said that he would try to bring in a ban on 'trophy' imports after a period of consultation.
His actions throw into doubt UK deerstalking, too. In Scotland alone during the autumn of 2019, an estimated 20,000 stalking tourists, many from overseas, will take home antlers from red stags they have shot with professional deerstalkers.
Johnson's move will damage wildlife conservation efforts, and rides roughshod over pleas by other countries to allow them to manage their own wildlife. However, it pleases anti-hunting activists including his girlfriend, Carrie Symonds.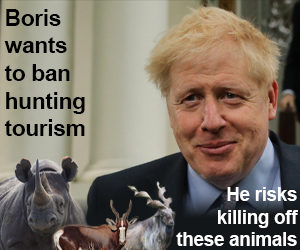 Here are officials from African nations pleading with the European Parliament to allow them to run their own wildlife programmes, including regulated hunting, without meddling from the EU:
Johnson's move ignores the lessons from Donald Trump's shortlived trophy import ban. Trump rescinded his ban after it emerged that, with no financial interest in them, there was no need to keep up numbers of lions in and around Hwange National Park in Zimbabwe, the home of 'Cecil' the lion, shot by a US dentist in 2015. Zimbabwean farmers and rangers snared, poisoned and shot 200 lions as a result of Trump's brief trophy import ban.
Johnson ignores the letter by 133 wildlife experts in August 2019 to Science magazine (PDF – login required), which acknowledges the personal discomfort many of them have with hunting tourism, but points out its importance to wildlife conservation. "Boris does not grasp that only hunting tourism provides the money that pays for conservation," says Fieldsports Channel's Charlie Jacoby. "Photographic safaris do not provide enough money."
The European hunting organisation CIC has written to DEFRA ministers to make the case for hunting tourism. CIC president George Aman writes: "We recommend that UK government decision-makers take no action concerning wildlife importation bans without first consulting with governments and affected communities from the countries whose wildlife will be affected; invite government officials and rural representatives from those countries to the UK to share information about their conservation programmes, the role that hunting plays in those programmes and the harms that a UK importation ban could cause; and visit those countries personally to witness their successful conservation programmes."
The increasing popularity of hunting sports is adding to anger about Johnson's plans – and may be fuelling desperation by animal rights actvisists to push through a ban. The Sunday Times reported in September 2019 how hunting tourism is booming.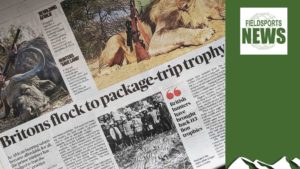 Johnson has decided to use law to try to criminalise hunters and shooters.