Around 400 canada and greylag geese are landing on a stubble field in Bedfordshire. The farmer wants them moved on, so he calls on Paul Childerley and Jason Doyle. Usually deer experts, they turn their hands to gooseshooting – and approach it with careful planning and man power.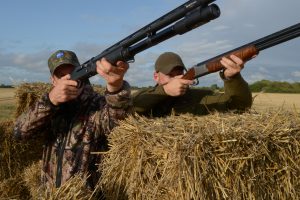 It is a new pairing this week: Fieldsports Channel's Paul Childerley is joined by the Shooting Show's Jason Doyle. These two are both normally seen out deerstalking with clients.
In this episode the deer professionals are going after geese. Jason, who doubles up his shooting work, he has recently launched a guiding and outfitting business, with being behind the camera is looking to bag his first ever goose. And with Paul and Jason being good friends away from the Fieldsports industry it could have been quite a tricky day for him as the jokes will have been flowing from the minute the cameras started recording, he said: "It was great to have Jason on the show as he starts his new business turning his passion into a lifestyle," says Fieldsports Channel's David Wright, who filmed the outing. "They were pretty well behaved in the hide and there was plenty of unrepeatable banter- Both say there are talented at calling crows although we heard nothing from Jason and just a phlegmy cough from Paul, however Paul's goose calling was impressive… which you can hear in the film."
It is unusual for the channel to showcase someone from a direct 'competitor' but it is a good chance to show that people inside the industry can work together, whether that is in media or out in the field. Plus, it has the potential to bring a new audience to both channels.
David says: "Jason is welcome on the show anytime but he's absolutely committed to filming and appearing on the Shooting Show."
Not only is Jason celebrating his first-time goose hunting, but by the time this piece goes live on YouTube it will be his birthday – Happy Birthday Jason.
Paul is sponsored by Shooterking and Pulsar.
Visit www.shooterking.co.uk for outdoor clothing
Go to www.thomasjacks.co.uk for night vision
For the decoys, go to www.ukshootwarehouse.co.uk
For more from Paul, go to www.childerleysporting.co.uk
Jason usually appears on The Shooting Show www.youtube.com/theshootingshow or email him jason@jdsporting.net.
This film was first shown in Fieldsports Britain episode 406. To watch the whole show go to Fcha.nl/fieldsportsbritain406