BASC is fighting an attempt by Bradford City Council to silence criticism of its moorland management.
The organisation received a letter from the council's legal department demanding the removal of a blog which questioned why Baildon Moor was being mown by a tractor at a critical time of the year for ground-nesting birds. In addition, BASC has submitted Freedom of Information requests in an attempt to establish how much it has cost the council to manage Ilkley Moor since it cancelled the shooting lease in 2018.
The council demands BASC amends its media coverage of the incident or risk it taking action against the association.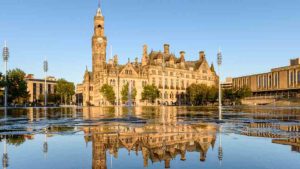 Anti shooting: Bradford town hall
BASC is refusing, saying the council had not answered the questions originally posed by BASC and other rural organisations at the time video footage emerged on social media of the moor being mown.
BASC's deputy director of communications and public affairs Garry Doolan says there had been "no contact from the council" before the lawyer's letter and described the tactic as "rather bizarre".
"What is at the heart of this is that somebody felt it was okay to mow the moor in the spring when vulnerable ground-nesting birds were in the middle of their breeding season," he said. "It is only right that this incident is called out by BASC and others."
The council threatened Fieldsports Channel with a legal letter on the same subject and we take the same view as BASC. Here are the stories Bradford doesn't like: